In the previous post I wrote about getting your world trip planned out. In this one, I'll guide you through the trip I'd planned in 2020. As you can recall, not the best year for a four month travel getaway. Spoiler Alert: we only did our Asia part!
Southeast Asia is the backpacking destination for all twenty-something millennials. Even if you are a bit older, I would still recommend visiting this part of the world. The culture and street food are sublime!
Travel to Dubai
If you don't want to sit on a long flight, a stop-over might be needed. We started our trip with Dubai and everything here is massive!
If you like shopping and bling-bling, this is the place to be. There are also amusement parks in all shapes and colours, an indoor ski and snow park, souks,… It has everything you can think of and much, much more.
Did I mention the humongous shopping malls?

To be fair, I had a blast. It felt as I was walking in someone's dream, it just didn't feel realistic. All the trees and nature feel like they have been strategically planted (which of course is true). After four days I was happy to be going forward and start our Asian adventure.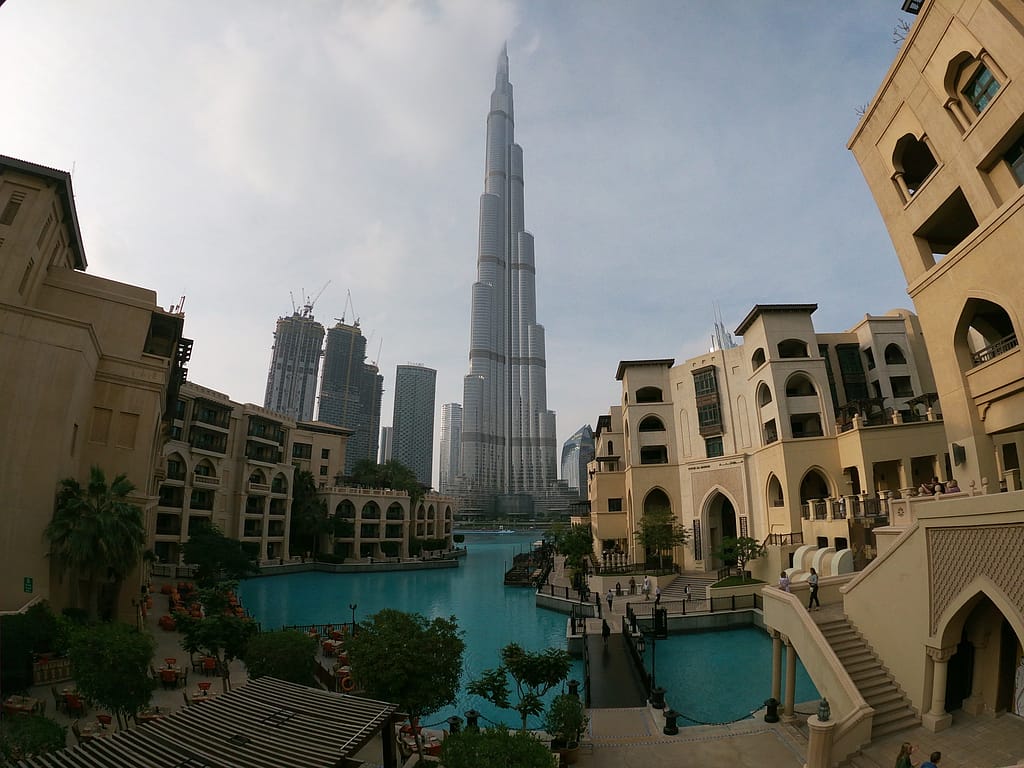 Planning your trip in Thailand
Thailand is the best known southeastern country. The second we arrived in Bangkok we could smell the air-pollution. I wasn't expecting it to be this bad. The warm air mixed with the fumes overwhelmed me. The jetlag didn't help either!
The next day we walked around in Bangkok, the hotel owner warned us that we could attract scammers. So glad he warned us, so we could negotiate the ridiculous prices to a more normal price.
After the Bangkok adventure we went up north by train, tuktuk and on foot. Our highlight here was hiking in the mountain range near Chiang Mai and sleeping in basic sheds so we experienced how people live in the countryside. One of our guides was an excellent chef, I even got a little cooking lesson.
Covid-19 wasn't big yet in Thailand as we did this trip in February. Going up north was a good way to avoid the real busy places.
Taking the boat to Laos
Crossing a border by slowboat was something new for us. The trip took us two days, one of 7h and 8h long. We had seats like on a bus, seatbelts and all. Only the seats were not fixed to the floor… I found myself some new friends and talked the hours away. Our slowboat slowly drifted on the Mekong River; it was magical!
We spend four days in Luang Pabang and ate some delicious French bread. I missed a good croissant and a pain au chocolat after two months. We spend an afternoon swimming in very cold water at Kuang Si Falls.
Another highlight were the paddy fields in Vang Vieng. Wonderful green grass as far as you could see. Seeing the sunset between two misty mountains after a day of hiking was also very relaxing.
Short stay in Cambodia
We had four days in Cambodia, the setting was the best one you can get! A local guide told us that our day ticket would be valid for two days.
I'm not a morning person, but we really wanted to book a day trip that included the sunrise. Even with less people this wasn't really worth it for me. The sunrise was great, only sad to spending it with 200/300 people crammed behind a little pond.
The second day we slept in and went to the temples in the afternoon. We found ourselves a very happy and chatty tuk tuk driver and did the temples others mostly skip. But damn!! We were almost alone and so far out, it felt like a Tomb Raider film. I think we saw around 10 people maximum that whole afternoon. This is the highlight of Cambodia for me. Just driving and walking between these ancient temples, full of the most beautiful decorations, I could have stayed here for weeks.
My favorite temples at the Ankor Wat Complex were:
Ta Som
Bayon
Ta Prohm
Neak Poun
Banteay Kdei
Angkor Thom
After Cambodia we returned to Khong Chang, Thailand. We still had to get our open water dives to become certified divers. During one of the lessons we even went wreck diving! I went a bit to deep '-20m'!
Tip: Keep an eye out on the depth on the watch and don't follow the fish haha!!
Citytrip to Singapore
From Thailand we flew to Singapore and had four days. We were back in a very modern almost western city. I looked forward to seeing if this city would have the same vibe as Dubai. Luckily this city was less over the top. The humidity was very high but we went with the flow of warm air! The architects found the perfect balance between forest and city which made me really enjoy the atmosphere.
Indonesian sunrises
After that little break and less spicy food we arrived in Java – Yogyakarta. The rainy season was upon us! After almost two full months of no rain, we were happy to walk in the rain and even get a bit cold.
We got our hiking boots ready as we had a four day tour planned with ViaVia Jogja. Writing this article I see we did a lot of four's on the trip. Our first stop, Candi Ceto and Candi Sukuh. Erotic temples as our guide Nara colourfully explained. This tour is filled with epic highlights. An alternative route to Bali via Bromo and Kawah Ijen.
After a full day of driving towards Bromo, Nara prepared us for an early morning. It was not going to be the only one! The sunrise was stunning, a little struggle getting up the stairs and there we were, on top of the vulcano! The vastness and emptiness of the surrounding felt like a movie set.
The next day started at 12am as we had some driving to do to get to Ijen. Nara had prepared us for the morning hike, 3h strait up but it was worth the climb! The Ijen crater has a stunning turquoise lake. The sun was just getting through the thick clouds of toxic gas. Lucky we had a mask! It is mind blowing to see that this is still a working mining site. Men carry heavy sulfur filled baskets up and down the volcano.
Ending in Bali
We took the boat to Bali. There we learned that the pandemic was spreading and Australia was closing its borders. We enjoyed our last days hiking the landscapes and searching the waterfalls. And as a final treat we went looking for mantas during our dive on Nusa Lembongan.
And that's a wrap, we got home safe! We are lucky we got to go places this year and hope to see some more of our beautiful planet in 2021.