The big question, which route do you choose?
Sri Lanka is an island, which makes choosing a route for your trip convenient. Depending on the amount of time you have to spend, you will be traveling in a circle. Sri Lanka has two seasons, a dry and wet one.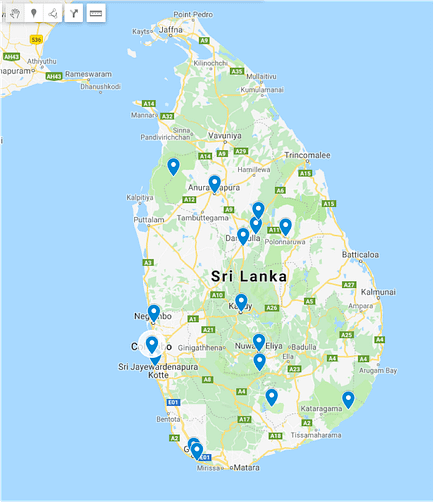 The best time to go?
It sounds cliché but Sri Lanka is a year-round holiday destination, peak season starts December to mid-April. The temperatures are fairly constant year round, with coastal regions enjoying average temperatures of 25-30°C and the highlands 15-18°C on average. When traveling during the summer months (May to September) you'll want to head towards the east coast and northern regions for dry, sunny weather, as the west and southwest coasts experience rain at this time. The winter months (October to February), the west and southwest enjoy good weather conditions when the monsoon season hits the east and north. Both routes have their own advantages.
Insider tip: Visit Sri Lanka between mid-April and before the end of June to avoid many tourists.
Starting point for your trip: Colombo or Negombo?
When flying to Sri Lanka you'll arrive in Colombo, Sri Lanka's capital, but this place isn't going to make you fall in love. Colombo doesn't have any significant sights and it's not the place to be if you're looking for a nice atmosphere. Many travelers will choose to spend time in Negombo. This town is not only close to the airport, it's also located on the beach. Perfect to spend the night to get trough your jetlag. I would recommend traveling on as soon as possible and spending your time in the more beautiful parts of Sri Lanka.
Depending on the season, end up at the beach in the south or northeast of the island!
Almost everyone in Sri Lanka will travel clockwise or counter-clockwise. If you travel clockwise you essentially start with culture, take the well-known train ride to the mountains through the tea plantations, and end up at the beach. You'll discover Sri Lanka's wildlife in one of the many national parks along the way. The advantage of this itinerary is that you finish your vacation on the beach. You'll also get a varied impression of Sri Lanka right at the start of your trip, guaranteed to leave you with a good first impression.

When traveling counter-clockwise, you do all of the above, but in a slightly different way. You start at Galle, an old Dutch/British settlement, going onwards to Yala National Park. From there you go up through the mountains, ending at the beach on the northeast side or at ending at one of the ancient cities.
To-do's in your route
If you're a wildlife enthousiast like me, add Udawalawe in the planning! This nature preserve is on the route and you will get a 100% visibility on large herds of elephants there.
How long does a safari take?
You will spend about up to 3-4 hours on a safari, give or take. Take the morning safari – getting up before the sun rises is key. You will wish you did the early safari when seeing al the other jeeps fight over a good 'parking spot'. But if timing-wise the afternoon safari works better, you'll see most-definitely still see elephants. If you go in the high-season, it will be crowded at all times unfortunately!
Insider tip: the ride will be bumpy so hold on at all times. Don't forget to bring sunscreen and wear clothes that will protect your shoulders. A hat is not a bad choice but it will be windy in the open jeep.
Hiking to Ella Rock
Ella is possibly the most well-known place in Sri Lanka, because of its green tea plantations. Until 1948, Sri Lanka was called Cylon, the place where the famous Cylon tea originated. The English brought the tea to Europe and as of then, Cylon tea became world-famous. Taking the train to Ella is definitely the most beautiful train ride I've every done (yet). The village itself does attract many tourists, but I did like the whole vibe there.
You can do two hike's in Ella; Little Adam's Peak and Ella Rock. The first one is done by almost everyone as it's not too difficult and the view is very nice. The other one I suggest you do is Ella Rock. If you have time to keep 4-6 hours free in your schedule, this is a must-do! Make sure you start with the walk around 6-7 am. Afterwards it will be too warm to hike up and more people will be on the top as well. You'll be accompanied by a couple (or six!) stray dogs. #dontgetrabies
Getting to the summit can be a bit tricky when hiking Ella Rock! I found this a very helpful video. You'll see different signs pointing towards to Ella Rock. They all guide you to towards the summit, but it can take a bit longer. If a local wants to 'guide' you, keep in mind that you will need to give them a tip.
Lion's Rock or Pidurangala Rock?
I climbed both but find that there is no straight answer. Both are very different in literally every way.

Lion's Rock is a citadel, a fortress on top of a hill in Sigiriya in Central Sri Lanka. It is an UNESCO World Heritage Site. Sigiriya is located near Dambulla, which is famous for its cave temple. Before turning into a fortress, the ruins on top of Lion's Rock were used as a place to live and meditate by Buddhist monks.
Climbing Lion's Rock is, in my opinion, much easier as than climbing Pidurangala. The big difference between the two is that Lion's Rock has a large amount of stairs. Enjoy the experience and the view on your way up, until you reach the top. The best time for climbing is in the early morning or after 4 pm to see the sunset. In the middle of the day it will be too hot to start the climb.
Climbing Pidurangala Rock is very easy at the beginning but be wary of the very last part of the climb. Just like Lion's Rock, Pidurangala has steps in some areas. Most of them will be cut out in the rock, but you'll be having a whole different experience. These steps are much older, man-made and not specifically made for tourism (such as Lion's Rock). For this hike you will have to be a bit fitter. Towards the end you'll have to use all fours and pull yourself up the rock. If you are traveling alone, place your gears first and than yourself. The space between the two stones is small! Being tall also helps to get on there. In most cases you wouldn't be completely alone and you'll be able to get a lift or push when needed.
Insider tip: wear hiking boots instead of flip-flops, otherwise you just look ridiculous!
In my humble opinion Pidurangala is the Rock to climb. The view you'll get from the top is just as beautiful. Because more people visit Lion's Rock, Pidurangala Rock will be more secluded. If time is of essence pick this one!
Last tip; this hike is much cheaper (500 Rupee instead of 5200 Rupee).