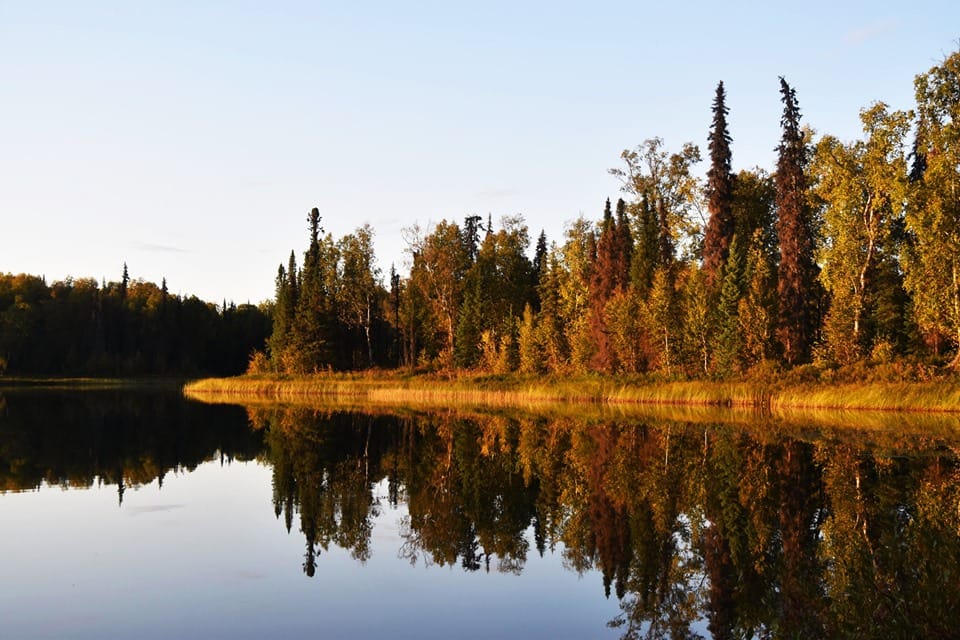 May the forest be with you!
When looking at the world map – you'll see I'm not lying. It can be overwhelming to plan a trip to Alaska. If you like to explore the wilderness and go hiking this is the destination for you! Nature will not let you down on bears, moose or whales or just fantastic views in general.
Anchorage
The capital Juneau isn't easy to get to, so most of international flights will fly to Anchorage. This will be the starting and probably ending point too. You can spend your first hours exploring the city before you head out in to the wild. If you do already want to go exploring, renting a bike and seeing the Tony Knowles Coastal Trail is really fun. This is a trail around the city and spotting your first wildlife is pretty easy. Take a stroll to Lake Hood, this is the world's largest and busiest seaplane base. Or when the weather isn't allowing you to cycle, the Anchorage Museum is a good alternative.
You can spot a moose at Westchester Lagoon, no luck with the moose then go to:
Point Woronzof Park, at the edge of Cook Inlet
Potter Marsh
Kincaid Park
Campbell Creek Estuary Park
Chester Creek Trail
Russian Jack Springs Park

Spot your Beluga whale at Turnagain Arm, Beluga Point or Bird point. Look for the bright white spots above the surface.

Want more info on the Iditarod Trail Mushing History visit the museum in Wasilla (1h from Anchorage).
Getting around
Renting a car or campervan is the way to go. The roads outside the big cities are traffic free and easy to orientate. Download maps.me for an easy-to-use offline navigation app. No Wi-Fi or 4G needed and works just like Google Maps. Did I mention it works offline and it's free?
Start your engines
I would suggest planning your route going up towards Fairbanks and then down towards Homer. Just because most tourist go the other way around. Avoid them if you can.
On your way up do the small hike to the Eagle River Nature Center, the Thunderbird Fall Trail is 2 km and ends with a stunning waterfall.

Talkeetna is know for its access to Mt Denali. All the climbers need to stop here before starting their climb. The town is small and a bit touristy but it has its charm. Have breakfast or snack at the Roadhouse, here you can check-out the walls as they are covered in climbing history. I found a fellow Dutch speaker there that climbed the mountain in the seventies. Also they sell the best cinnamonrolls.
Around Talkeetna you can take several hikes. Mt Denali being the biggest.
I really liked the X-Y-Z lake hikes. Go 1h before the sun sets, this is called the golden hour and you'll have more chance on spotting wild moose.
On your way to Denali you can stop to hike the Byers Lake Trail. This loop trail isn't maintained well (Aug 2019). So wear your hiking boots and bring enough water and food.
Denali
You can see The Denali National Park in one day. The shuttlebus service can bring you to the Eielson Visitor Center this is an 8h roundtrip. You can take the shuttle to Wonderlake which takes another hour. Leave early to have enough time to explore. The entrance fee is $15 which you pay at the shuttlebus depot. Take a seat at the left side of the bus, you'll have more chances of seeing the Grizzly bears from that side. The right side will have views on the mountain edge and possible mountain goats.
On a clear day, this bus trip offers outstanding views of Mt Denali and the Alaska Range, and excellent wildlife viewing opportunities. You can do a self-guided hike on the trails around the Eielson visitor center, or join National Park Service Rangers for daily-guided walks. Only 30% of the day visitors gets to see the Mt Denali. So be prepared and check the weather forecast.
Insider tip: Are you a fan of the movie 'Into the Wild' or a fan of Chris McCandless journey through Alaska? Add in a stop at the brewery 49th (opens daily at 11am). They have the replica bus where Chris spend his last days. I do not recommend hiking to the real magic bus. The hike is very dangerous as you need to cross two wide rivers.
Planning a trip in August? Great, because at Denali, August 25th is celebrated as Christmas. It's a long tradition, begun back in Yellowstone National Park. According to legend, a group of visitors in the early days became trapped at Old Faithful Inn after several inches of snow fell August 24th.
Fairbanks
Fairbanks will be the highest point you can easily drive to from Anchorage. From here you can take a plane towards the Artic Circle and try to see the Northern Lights. Take a stop at the Morris Thompson Cultural and Visitors Center to learn more and have a look at the live forecast.
30 min from Fairbanks you can visit Santa Claus in North Pole, after spending Christmas in Denali this is a definite stop on my trip. You can send your Christmas postcards from here too!
Paxson
On your way down to Paxson your can look for the Alaskan Pipeline running al the way from Prudhoe Bay to Valdez. The pipeline was built between 1974 and 1977, after the 1973 oil crisis caused a sharp rise in oil prices in the United States. It's a real piece of engineering craftsmanship.
In Paxson take an hour detour on the Denali highway, look for drive marker 36 and hike the McClaren Trail and spot some wild Caribou. Note: This highway is unpaved so be careful and stop on the side of the road when big trucks pass you. This will decrease the impact of loose gravel on the windshield.
Kennicott
Kennicott lies in the middle of the Wrangell-St. Elias National Park. This is a very remote old mining village that is only open during to summer. The history behind the Kennecott Copper Mines (with an e) can be explored as most of the old buildings are open to the public. Here are directions on how to get there.
How to remember the 5 species of Alaskan salmon
My Alaskan friend though me an easy way to remember the 5 species of Alaskan Salmon with the use of my hand. Thumb rhymes with Chum. The pointer finger can be used to Point to your eye. Eye rhymes with Sockeye. The middle finger is the largest finger on the hand and the largest of all of Alaska's salmon is the King. Then we look at the ring finger and ask, "What color rings do some people wear? The fourth species is a Silver. And last but not least, there's the pinky finger. Which they call the Pink.
Palmer
Every year around the last week of August and first week of September the Alaskan State Fair takes place in Palmer. People from all over Alaska come down to Palmer and bring their home grown vegetables or farm animals to sell and win prizes.
You can also drive to Matanuska Glacier and hike around Hatcher Pass and Independence Mine.
Seward
If you visit Seward you need to book a cruise to Prince William Sound. These tours enjoy sharing their knowledge of Kenai Fjords National Park. You can stop at the mighty Holgate Glacier and float among the icebergs as you watch for calving, where giant chunks of glacial ice break off and crash into the ocean. Add that to your to-do-list!

After the cruise you can hike to Exit Glacier and enjoy the view. Want to know more about glaciers in Alaska, check this page.
Homer
In Homer you can stop at Bishop's Beach and walk down when the tide is low. This phenomenon is called tide pool where you can go look for marine life that's waiting for the tide to come back up.
You can also hike in the Kachemak Bay by taking a water taxi in Homer Spit for 30 minute to Glacier Spit, this is an easy 4.5-mile hike to Glacier Lake. Begin your adventure at Rusty's Lagoon, a good spot for tidepooling. The trail heads through the woods, to the lake where Grewingk Glacier calves icebergs. A short backtrack connects you to the Saddle Trail. Once there, you're just a mile from your pickup point, which is set in a secluded, protected cove. Take your time and it will be about 5 hours. You can also choose to camp overnight at Rusty's Lagoon, or backpack in and camp on the beach at Glacier Lake.
In conclusion, Alaska is a pretty big place. Take that into account when planning your trip. Each region has its own reason to visit.