---
Traveling to Sri Lanka
OK, so you have canceled your travel plans to Sri Lanka due to the bombings this Easter? That's a normal thing to do. But, what if I tell you that's a real shame, you should reconsider going there next!
This beautiful island has been put into the spotlight and recently made it into "Top Travel Destinations" lists including Lonely Planet.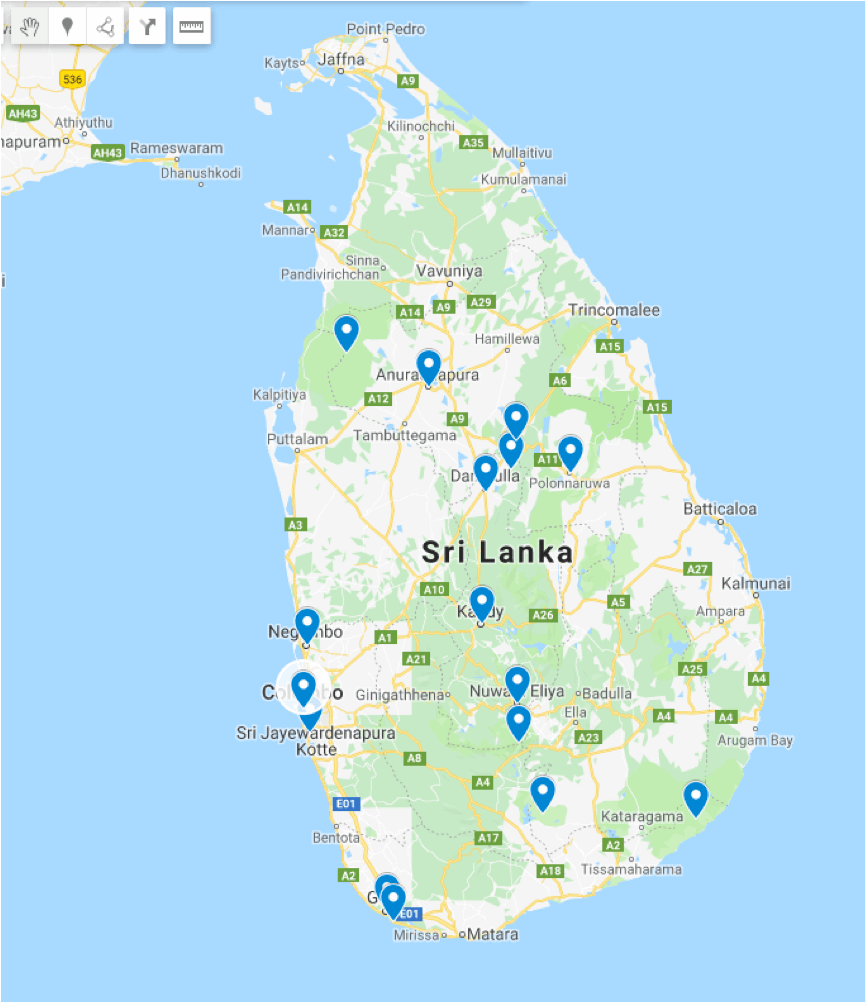 I'll tell you why
For one this is a surf and yoga paradise!
This country is still unknown to the big public and you can catch wave…after wave…after wave. The water is delightfully warm for the majority of the year so you can leave your wetsuit at home. What's not to like!
Not into surfing? Don't worry, neither am I. It's also a hot spot for kite-surfing, water skiing and SUP-ing.
---
The food
I could write several blogs about this, but I'll stick to my format. Like India, Sri Lankan meals consist of delicious curries, rice and roti, string hoppers (meaning = steamed rice noodles), kottu, fresh seafood and tons of wonderful colorful tropical fruits.
Insider tip! Wash your right hand and eat like the locals. They will respect you for it.
Order the rice and curry as your lunch and enjoy all the spices and flavors. Dhal curry is my favorite, it goes with everything, but is perfect for dipping your kottu (also, kottu roti). This is great if you are not a rice fan. It resembles fried rice, except instead of rice, it's a flat, crispy bread. Delicious!
And not to forget!
Drink some tea in one of Nuwara Eliya's tea plantations, you'll think that you arrived in England. Tea plantations as far as the eye can see. The train that you'll take from Ella to Nuwara Eliya brings you past this ocean of green. We learned that black, white tea and green tea all grew on the same bush – just from different leaves, I wasn't aware of this. Did you know?
---
The Wildlife biodiversity
Sri Lanka is home to 22 National Parks (NP)! And of those 22 we did the 5 major ones: Yala; Udawalawe; Horton Plains; Minneriya and Wilpattu. Despite being a small island, (normally islands don't have many animals), Sri Lanka packs a powerful punch when it comes to wildlife. It is one of the top five hot spots for biodiversity in the world. A Safari should definitely be on your to-do list.
Udawalawe NP is one of the best places in the world to see wild elephants. Herds are often seen roaming in numbers of up to 100. A large numbers of elephants migrate across the country to Minneriya NP every year. Known as 'The Gathering', around 300 will come to the park's reservoir. The largest meeting of Asian elephants anywhere in the world.
---
The Cultural Heritage
The culture here is rich and full of stories. With a mix of cultures and beliefs, the fusion has created interesting places to visit. Below are 5 UNESCO world heritage sites you should visit.
Insider tip! Rent a bicycle and tour around Polonnaruwa.
This small island has a diverse religions such as Buddhism, Hinduism, Islam and Christianity. They all live quite comfortably with each other and are usually respectful of each other. You will find Buddhist temples, Hindu temples, Muslim mosques and Christian churches throughout the island. Some areas will be more concentrated with one religion than another.
---
Last by not least: The People
Every Sinhalese person that we encountered gave us the feeling we were extremely welcome. Everywhere we went kids and adults alike would wave and smile at us. The thought of that happening in a European country is ridiculous and sad at the same time.
Denver, our driver/guide, showed us everything and should get a medal for keeping his calm. Even after the attacks he kept on going being his cheery self.
Summary. Don't go planning anything else. Your next trip should be Sri Lanka!